I move and manage computer files at work on a regular basis. There are often duplicate files, and I regularly modify them and erase the originals. In the course of doing this for multiple years, I have fallen into the habit of using
shift+delete
. You see,
delete
all by itself just sends things to the recycle bin, which must be emptied periodically. But
shift+delete
instantly and permanently eradicates whatever file is selected.
This has never been a problem for me with any of the work-related files that I manage. I am meticulous, and I have developed a system that while boring, greatly reduces my chances of accidentally erasing vital data. So the act of using
shift+delete
has become a healthy habit for me. Or so I thought.
It turns out that what is sound practice in one area, is folly in another. If perchance you don't own/operate an iPod, let me fill you in on a little secret. Even if a song is listed on a playlist AND your main library (and twenty other places), accidentally using
shift+delete
instead of regular
delete
to remove a playlist will also remove all those songs from your iPod. Forever.
And so when organizing one of my favorite old playlists, I instinctively hit the shift+delete combo. It took me about seven seconds to realize what I had done, and by that time a playlist of 400 of my FAVORITE songs had been reduced to 150. I quickly unplugged my iPod from the PC, and followed up that action with yells of displeasure. I even looked into the end of the connector cable, to see if perhaps a few of those deleted songs weren't still stuck in the wires. Then I shook my head and called myself a dumbass.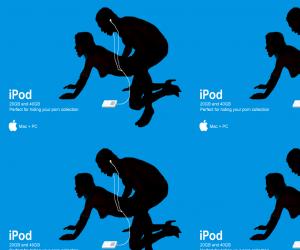 I plugged in the cans and dialed up the old playlist. It still listed 396 songs, but when I tried to play them, it skipped every other one. Among the casualties were some of my Kings Of Leon b-sides, and
The Way It Is
by skate punk band Zero Down. I thought about writing down as many as I could as the list of the lost scrolled through one first and final time. But I decided instead to seek out new music to replace the old. Time for a change.
Besides, I can't remember most of the old tracks now anyway, even though I'm fairly certain that a few of them may have actually been original recordings of my songs.
Zero Down - The Way It Is
via
Battle of the Midwestern Housewives
Kings Of Leon - My Third House
via
real Horrorshow tunes
What's the worst thing you've ever accidentally deleted?